10 THINGS // Design Miami 2016
Design Miami just wrapped up last weekend, and this will probably be the last time I write about design shows until the fall. There is a GLUT of shows from Milan in March to NYCxDesign in May all through June! Moving forward we would like to do some studio visits and concentrate on design studios and individuals. Nevertheless, we'll do our due diligence and cover Design Miami. Here goes:
Highlight of the Victor Hunt Designart Dealer stand is the Dawn Light series, by Rotterdam-based designer Sabine Marcelis. Great use of color gradients, light and objects for some interesting shapes and forms.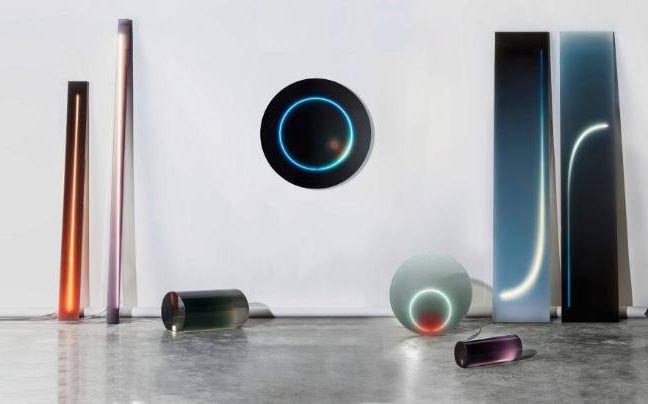 Milanese gallery once again focusing on Memphis, featuring an Ettore Sottsass' chair and sofa that is new to me. My eyes start to glaze over when anyone mentions Memphis lately, but juxtaposed with Nanda Vigo's mirrors and rug and the blacked out background show Sottsass' work in a fresh light.
JM Design Gallery presented 'Leatherscapes' by Lebanese designer Marc Baroud, a series of objects designed around the dimensions of a single sheet of leather.
Louisa Guinness Gallery's created a fictional museum, called The Archive Room, showcasing jewellery by sculptors and painters.
6) Bookcase by Artist Diego Giacometti
Who knew Giacometti tried his hand at furniture? Presented by Galerie Jacques Lacoste, this built-in library titled 'Chambre à Livres' by the Swiss artist was made for a publisher, in 1967.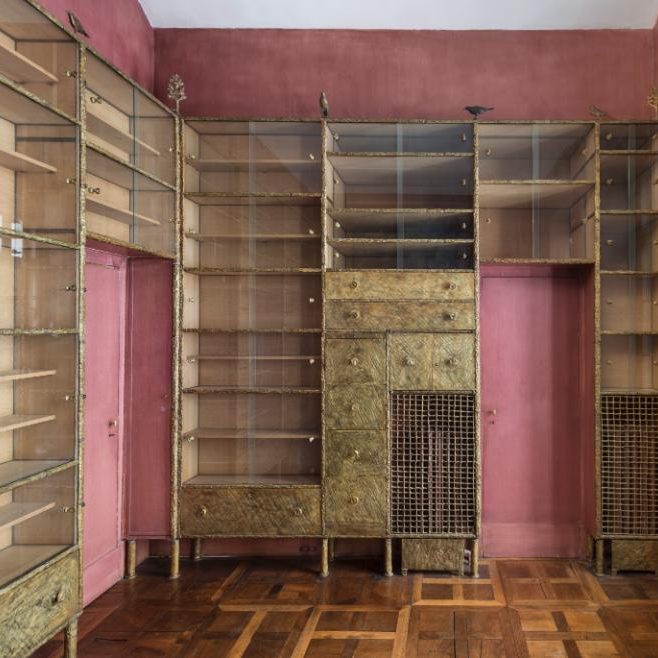 7) Maxéville Design Office by Jean Prouvé
Gallerist and Jean Prouvé authority Patrick Seguin went into an unassuming sex club in Nancy, France and found Prouvé's long-lost Maxéville Design Office. He displayed the restored prefab unit at this year's show.
Entitled 'Civilized Primitives' and inspired by twigs and branches of various trees found in the Finnish forests, Dutch designer Kiki Van Eijk's new collection is spectacularly whimsical.
9) Zaha Hadid Collection
I have to include the late Zaha Hadid who sadly passed away last year. If she was 'only' famous before, she's being immortalized now.
Galerie Kreo presented a massive oak table by Barber & Osgerby next to a large-scale curtain by Hella Jongerius from the UN North Delegates' Lounge, and an extraordinarily colorful Maarten Van Severen 'Bibliothèque'